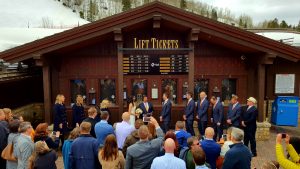 Wedding Season is the phrase used to describe the months when most weddings occur in a given region. As Wedding DJs in Colorado, our peak "wedding season" is June through October, and December (as there are a lot of Holiday parties & corporate events to compete with). Why is this important? Well, we know many couples are trying to find ways to save money on their wedding. One of the easiest ways to save across the board is to pick a wedding date outside of wedding season. This is due to the basic laws of supply & demand. Most couples choose to have their weddings on Saturdays during the summer & fall months in Colorado in order to take advantage of the beautiful weather we have here. Those 20 Saturdays fill up fast… especially with the best vendors and the best venues. Therefore, you have to pay top dollar for the venue, photographer, caterer, Denver wedding DJ, florist, officiant, etc. Many Colorado couples have realized this and have chosen to have their weddings on a Friday or Sunday in an attempt to save a couple bucks. Unfortunately, this has caught on as a popular alternative and we have as many weddings to DJ on Fridays & Sundays as we do Saturdays. So much for saving money there.
However – all is not lost. There are still 6 months that are considered "off-peak" in which nearly all vendors offer lower pricing… especially when the wedding is NOT on a Saturday. Want a super-cheap amazing wedding with the best vendors in town? Get married on a Tuesday in February. If that doesn't quite fit your vision of your wedding, consider any weekend from January through May. With all of the fantastic lighting & decor options available, we can help transform any indoor venue and make your dreams a reality.
We're here to help, so just Contact Us and we'll answer any questions you may have. We have a list of amazing vendors we know & trust and would be happy to connect you with them as well.