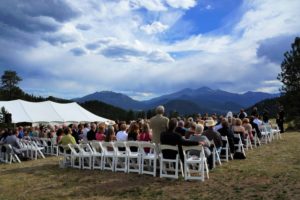 Here is an Estes Park Wedding DJ Testimonial we received from July 16th, 2016:
Tony Cummins with Sound Master Entertainment was the Denver DJ we hired for our wedding on July 16, 2016 in Estes Park, Colorado. Tony was awesome! We cannot thank him enough! He was the best DJ we have ever experienced, and we have been to a lot of weddings in our 50 years. Tony was professional, warm, funny and kind. He connected immediately with our 200 guests. My husband and I sent him song selections, and he played them all plus more great music. Five weeks before the wedding, Tony met with us at our home. He went over wedding day timeline, checked out the available power sources and guided us through the music process. He selected string music for the cocktail hour, romantic arrangements for the ceremony, and rocked our reception!
The second Tony introduced himself to our guests, everyone lit up. The dance floor was full from the time the first song played until the very end. The music and dancing was so successful that I realized I should have gotten a bigger dance floor! Tony had teenagers to older relatives dancing together. In terms of setup and breakdown, Tony took the ball and ran with it. I didn't have to think about a thing; he was on top of it.
Many of our guests are from large cities like San Francisco, Chicago, and Dallas, and we have received several thank you notes saying that Tony did a far better job than the expensive bands in the big city weddings. All our guests were thrilled. Mark and I highly recommend Tony Cummins as a DJ for any wedding or event. We are delighted to have had Tony there, and we thank him for making our wedding the best day of our lives.
Mark and Leslie
Estes Park, Colorado
CLick Here for more of our Denver Wedding DJ & Estes Park Wedding DJ reviews & testimonials.