Colorado's Best Denver Wedding DJ Service
"Setting the tone for the celebration of your lifetime."
This slideshow requires JavaScript.
Your wedding day is one of the most important days of your life. Make sure it turns out to be everything you want - and more! You spend months planning, organizing and coordinating all the details of your Colorado wedding. You want it all to flow smoothly, you don't want to miss a thing and you want all your guests to have a great time.  To create a memorable and fantastic experience, trust the Best Denver Wedding DJs at Sound Master Entertainment! We will work with you every step of the way - from the planning phase until your wedding reception is over. We will help turn your wedding dreams into a reality.
"Alan did an amazing job at our recent wedding. From the minute we met him we were drawn to him. He was so friendly and really listened to what we had to say."-Sarah/Bride
On the day of your wedding, there are many things you will be including: special moments like your first dance as Husband & Wife, your cake cutting and the toasts from your friends and family. As professionally trained Master of Ceremonies (MC), we will keep your guests informed so they don't miss a thing. We keep in constant contact with your photographer, caterer and coordinator to make sure we are all on the same page in managing your timeline. As you plan your wedding with us you will love our extensive online tools that help with song suggestions and the timeline for your special moments.
"We worked with Tony and he was awesome! His timing was always right on. His professionalism was great. He listened to us for the type of music we wanted. And, the dance floor was packed the entire night!" -Ahroonl /Bride
Professional master of ceremonies to help make sure your event flows smoothly
Personalized event planning and direction to ensure your wedding reception is exactly the way you've always envisioned it
Pre-wedding consultations – we want to make sure you know us, and have confidence in us
100% money back guarantee because we are positive your wedding will be a huge success!
Complete customization to your personality and style – after all, it is YOUR wedding and is one of the most important days of your life!
Personalized music playlist for the ceremony (if applicable) and reception – we play music YOU want to hear
Wireless microphone for ceremony and reception so there are no wires to worry about, and you and/or your guests can easily make a toast or talk to the crowd
Newest state-of-the-art equipment so you and your guests will experience an event that will be remembered for years to come
Karaoke and trivia available by request because your guests will love this fun and engaging type of entertainment
Video projector for slideshows (add-on) – a show of pictures from the present and past can add quite a bit to the ambiance at your reception
Customized live slideshow and videos – pictures and videos taken during your reception will be displayed for all your guests to immediately view and enjoy
Deluxe lighting package (add-on) to easily tie your wedding colors to your wedding venue
Up lighting and custom gobo (add-on) – accent your sweetheart table, cake table, or nearly anything you would like to highlight
Set-up and tear-down – don't worry… we do all the work so you can enjoy your day!
Travel time (within 50 miles) so you can select a reception venue in the Denver Metro area, in the mountains, or in a remote location
Each wedding is unique and you will of course want to customize it to reflect your personality. That makes it  hard to quote an exact price without discussing details with you. Let's talk so we can find out more about your wedding plans and give you an accurate quote.  If it sounds like we are a good fit, we can schedule a time to meet in person.
Contact us to schedule a free consultation.
We bet you will love our extensive online planning documents to assist with song selections, reception timeline, and suggested dance music.  Making requests with our online request system is a breeze. You can browse music and make requests before your wedding.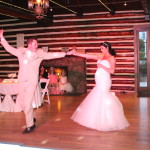 "Highly recommended! Sound Master Entertainment delivered a fun and engaging atmosphere that truly created a memorable wedding experience. Al Ley of SME worked with my wife and I to create a unique program that included helping us select the best music that both suited our tastes and catered to the guests. And sure enough, the music, along with Al's encouragement from the microphone, got everyone dancing! The reception also featured real-time visuals from Al that accompanied the music and the various events of the evening, including pictures that Al took at the ceremony earlier that day. The guests absolutely loved this! I'm very pleased that my wife and I selected SME, and would encourage all to contact SME to learn how they can make your event memorable."
Amanda & Kevin Duffy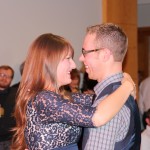 "We only did one interview when we picked a DJ, and it was Alan at SME. We loved how easy he was to work with and we felt like he listened to what we really wanted. Our wedding was nontraditional in a lot of ways, but we still wanted it to feel like a celebration, and Alan made that possible for us. He was great during the planning process and very responsive. He met with us twice (one interview and once before the reception to finalize things) before the reception, and we really liked him and his ideas. We weren't sure about doing some of the traditional wedding things- the anniversary dance, for example- but Alan talked us into some and we are so glad he did! It make the evening much more enjoyable and fun. The venue we chose was not ideal for a DJ to set up, but he made it work. Our friends danced and danced, which we were not expecting. His music choices were perfect, and we couldn't have asked for anything more! We recommend SME very much!"
Julia & Alex Stephens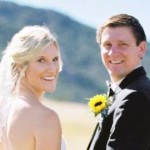 "Brian and I worked with Tony for our wedding and he was amazing...did a fabulous job with everything! Our wedding venue was flooded out two weeks prior to our wedding and Tony was very understanding and accommodating in changing our location, time of wedding, etc. Highly recommend Tony to anyone...we could not have been happier with the job that he did. Thanks Tony!"
Amber & Brian Deken
Hi there! Alan Ley DJ'd my wedding and did an AMAZING job! He was well organized, creative, and fun! He did both the music for my ceremony and for my reception at Hudson Gardens. I had contacted him pretty late notice (only a month in advance) and he pulled it off. He is also great if you go see him on karoke night at champs! Another very cool thing he did at my wedding is he snapped photos of the reception when no one else did. Then he immediately put them up on the projector as a slideshow. We were watching our first dance on the screen right after our first dance! He said he will give me a cd of the photos he snapped too. All in all, he really made my wedding special and if you ever want to ask me any questions just message me.
Erica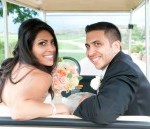 Tony did an amazing job as our DJ for our wedding. He took the time to get to know us and the type of music we liked. He was very helpful with questions and willing to make any changes we needed. His timing was perfect during the ceremony on the song transitions. During the reception, he coordinated all of the announcements which kept everything on track. He did a great job by mixing in songs we requested along with his own mix. All of our guests had a great time dancing and loved the music he played. Thanks Tony!!
Lindsay & Matt Abbott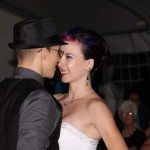 "We originally weren't going to have a DJ but after talking to Alan once I fell in love again. Alan personalized our entire ceremony with amazing string quartet as guests were arriving and did a personal song for our ceremony as well. I had no idea how I was to go about the reception, but Alan was ready when special events were to happen and coordinated everything perfectly. I am so happy that we went with Alan for our DJ. He was very personable, prompt and prepared with everything. Alan didn't hesitate to go above and beyond a regular DJ. He takes awesome photos through the ceremony and reception and is always available if you have any questions. We would use Alan for any special event, we were so pleased that without him our special day wouldn't have been the same. Thank you so much Alan!"
Kelly & Clay Lunney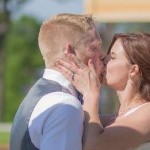 Tony was amazing! He totally kept the party going and then when the rain started making it's way in through the open side walls and the dance party went outside, he just turned his speakers so we could hear it and just kept rocking. I have not stopped hearing about how awesome and fun our wedding was and we owe a HUGE piece of that to Tony! I would recommend him to anyone looking to have a great night 🙂
Jessica M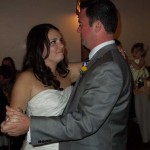 Alan from Sound Master Entertainment was simply perfect. He provided the music for our ceremony, cocktail hour, and reception and we couldn't have been happier. Not only is he very professional and easy to work with, he's friendly, has great equipment, is not the cheesy DJ that you sometimes hear at weddings, and has awesome services that you don't get with other DJs (like a projector and screen where he shows video clips and pictures from the ceremony and reception). Plus their website is really handy and helps plan out your "must play" and "don't play" songs. We included karaoke for the late night part of the reception and it was a big hit with our guests. I also highly recommend the classical pop music (think Guns n' Roses "Sweet Child of Mine" done by an orchestra) for pre-ceremony music. I can't say enough nice things about Sound Master Entertainment.
Shelley & Mike Hoolihan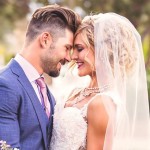 "Tony at Sound Master was a pleasure to work with! Emails leading up to the event were helpful. Anything I asked for he handled with no problem. Music was smooth, no mistakes or awkward silent moments, and he kept the energy up during the entire reception. A true professional who noticeably loves what he does. Tony was entertaining, funny, and the perfect amount of fun and professional. My guests danced the night away and without Tony it would not have been the same. I would highly recommend Sound Master Entertainment!!!"
Crystal & Thiago

Alan did an amazing job at our recent wedding. From the minute we met him we were drawn to him. He was so friendly and really listened to what we had to say.

"Killed it!!!!!! Tony was the ultimate MC and Entertainer. He rocked the party, that rocks the party!!! He made sure the dance floor stayed hopping all night. I also strongly recommend music videos as an added feature to the night! Thanks Tony! You made our night a real dance party!"
Andrea & Kevin Webber

Alan was fantastic in working with my wife and me. He was flexible and willing to play the music that was appropriate for various parts of our reception. As one of many vendors we had to manage, Al was by far the most self-directed, patient, and able to set our concerns at ease. I would recommend Alan to any wedding couple seeking a great service for a fair price.
Brian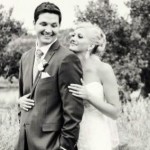 "Sound Master Entertainment was by far the best vendor of our wedding. If you are a couple/family that enjoys dancing, you will not go wrong with this DJ. Our ceremony and reception music were perfect! Tony had a feel for our guests and knew exactly when he needed to change it up. The dancefloor was full all night and that's exactly how we wanted it. I would absolutely recommend this DJ to anyone. AMAZING!"
Jenna & Josh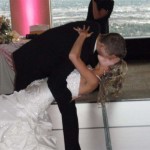 Alan Ley was our DJ, and he was amazing! We would recommend him to anyone, you will love him =)
Brandy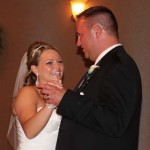 Highly recommend! Very professional consultation. They made our wedding day extra special, and did the best job I've seen of any DJs at a wedding!
Braden
We can't wait to meet you and hear all about your vision for your wedding.
"I am so happy that we went with Alan for our DJ. He was very personable, prompt and prepared with everything. Alan didn't hesitate to go above and beyond..."  -Bianca/Bride