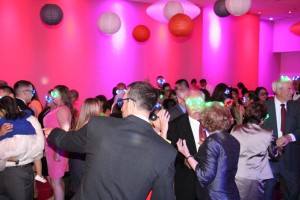 As DJs with thousands of events under our belts, we've seen nearly every type of setup & floor plan imaginable… some more ideal than others. When you are designing the layout for your wedding reception, there are a few things to keep in mind. We found a great article on Martha Stewart Weddings that really spells it out. From the DJ's perspective, numbers 3 and 4 are huge!
#3. Place the DJ right by the dance floor. If we're set up in a corner, we can't see what's happening on the dance floor, and it makes it really hard to read which types of songs are working best for your guests.
#4. Don't position tables right by the speakers. Once open dancing starts, we're turning up the volume. Whoever is sitting at those tables between the speakers and the dance floor will not be happy.
Here is a link to the full article – http://www.marthastewartweddings.com/412179/wedding-reception-floor-plan
Please keep in mind that many venues limit your options when it comes to the floor plan. They have their standard way of setting things up, and sometimes your hands are tied. With that being said, if you see something you'd like to change, just ask! Our goal as wedding professionals is to give you your dream wedding, and we'll do anything we can to help achieve that.